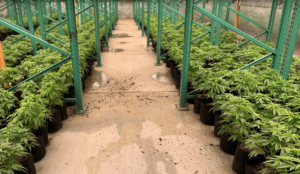 DATE/TIME: February 7, 2022, through February 13, 2022
INCIDENT: Outdoor Marijuana Cultivations-Operation Hammer Strike, Week 24
SUSPECT(S): Yong Hu, 47 year old male resident of Rowland Heights, CA. Location 14400 Block of Roy Rogers Ranch Road, Oro Grande
Kiengkhamr Kommaliane, 46 year old male resident of Twentynine Palms, CA. Location 82300 Block of Twentynine Palms Highway, Twentynine Palms
Vannidone Phonpiasit, 31 year old female resident of Twentynine Palms, CA. Location 82300 Block of Twentynine Palms Highway, Twentynine Palms
Viengsamai Kommaliane, 48 year old male resident of Milwaukee, WI. Location 82300 Block of Twentynine Palms Highway, Twentynine Palms
Jayson Kommaliane, 20 year old male resident of Milwaukee, WI. Location 82300 Block of Twentynine Palms Highway, Twentynine Palms
Milton Lopez, 27 year old male resident of Twentynine Palms, CA. Location 81400 Block of Screech Owl Road, Twentynine Palms
Chau Quoc Phu, 43 year old male resident of Twentynine Palms, CA. Location 81400 Block of Screech Owl Road, Twentynine Palms
Curtis Reeves, 60 year old male resident of Hesperia, CA. Location 8200 Block of El Cerritos Avenue, Hesperia
Van Luong, 29 year old male resident of Sacramento, CA. Location Parcel with no address, Adelanto
Toi Luong, 51 year old male resident of Sacramento, CA. Location Parcel with no address, Adelanto
Gian Tang, 62 year old male resident of Rosemead, CA. Location Parcel with no address, Adelanto
Chinh Lau, 53 year old male resident of Sacramento, CA. Location Parcel with no address, Adelanto
Manh Lau, 50 year old male resident of Baldwin Park, CA. Location Parcel with no address, Adelanto
Zhonghui Wang, 31 year old male resident of La Puente, CA. Location Parcel with no address, Adelanto
Tuan Phong, 60 year old male resident of Rosemead, CA. Location Parcel with no address, Adelanto
Chi To, 25 year old male resident of Baldwin Park, CA. Location Parcel with no address, Adelanto
Bobby Bohannon, 35 year old male resident of Hesperia, CA. Location 8900 Block of Pumalo, Lucerne Valley
SUMMARY: Between February 07, 2022, and February 13, 2022, investigators from the San Bernardino County Sheriff's Department – Marijuana Enforcement Team (MET), along with San Bernardino Sheriff's deputies from several different Patrol Stations, served 16 search warrants at various locations in Hesperia, Oro Grande, Twentynine Palms, Wonder Valley, Landers, Adelanto, Helendale, and Lucerne Valley. MET personnel had received numerous complaints about large outdoor and indoor marijuana cultivations in these areas. Over this past week, the San Bernardino County Sheriff's personnel located and arrested 17 suspects. Investigators seized 25,134 marijuana plants, 717 pounds of processed marijuana, one gun, and over $9,500.00 in cash. Investigators eradicated a total of 107 greenhouses found at these locations, as well as six indoor locations. Investigators mitigated one electrical bypass, and investigated a second electrical bypass that resulted in a house fire. Investigators mitigated two THC extraction labs.
The investigations revealed the cannabis cultivations were not in compliance with California's Medical and Adult-Use Cannabis Regulation and Safety Act (MAUCRSA) and San Bernardino County's ordinance prohibiting Commercial Cannabis Activity. San Bernardino County has a law prohibiting Commercial Cannabis Activity, which includes growing marijuana plants outdoors.
The Sheriff's Gangs/Narcotics Division will continue to enforce California's cannabis laws and San Bernardino County's ordinance regarding cannabis cultivation and distribution. Persons found guilty of violating the state law and county ordinance are subject to fines, prosecution, and seizure of property.
Property owners who are growing marijuana or are aware their tenants are growing marijuana on their properties in violation of the state law and local ordinances may also be subject to civil or criminal sanctions. Property owners are encouraged to contact their local law enforcement or code compliance agency to confirm if cultivating cannabis is prohibited or allowed under specific regulations.
The suspects were cited or booked on charges of Cultivation of Cannabis, over six plants, Possession for Sales of Marijuana, Illegal Water Discharge, Manufacturing a Controlled Substance, Utility Theft, and Conspiracy.
Anyone with information regarding this investigation is urged to contact the Sheriff's Gangs/Narcotics Division at (909)387-8400 or NARC-MET@sbcsd.org. Callers wishing to remain anonymous may call the We-tip Hotline at 1-800-78-CRIME (27463), or you may leave the information on the We-Tip Hotline at www.wetip.com.
Refer: Sheriff's Public Affairs
Station: Gangs/Narcotics Division
Phone No. (909) 387-3700
Case No. 652200146
652200148
652200150
652200151
652200153
652200154
652200155
192200940
652200157
652200163
652200164
652200167
652200168
652200169
192201053
072200520
SHANNON D. DICUS, Sheriff-Coroner
San Bernardino County Sheriff-Coroner Department